The cost is entirely up to you.
Pick the competition's pockets without emptying yours.
Set up a campaign for as little as $10/day over as little as a 1 week time period.
Our pricing model is simple. You choose how much you want to spend and over what time period. This puts you in total control. PickPocket™ lets you figure out your ideal budget without worrying about agency markups.
There are no contracts with PickPocket™. You can start and stop your campaigns whenever you need to, and you can increase or decrease your budget easily and quickly. We have no hidden fees, so you can rest easy knowing that you'll get the marketing you pay for without any surprises along the way.
PickPocket™ operates on a CPM model, which means that you pay per impression (or view) of your ads. The more you spend, the more impressions you get—it's that simple! You don't have to worry about bids or rankings, just set your budget and hit deploy.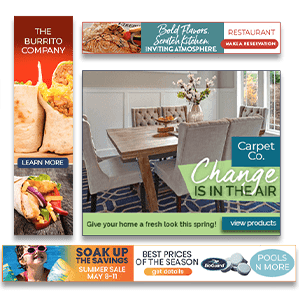 Need Creative? We can help.
PickPocket™ offers custom creative for businesses that don't have their own ads. You can check the "Need Creative" option during the campaign building process, then enter the offer text, button text, company logo, and, if you have one, the graphic you want us to use. We'll take that info and build a full set of display ads that you can use in your campaign. Each ad set you have us create costs $100.